Tokyo Stock Exchange Trading
Hedge Funds Waiting for Tokyo High Frequency Trading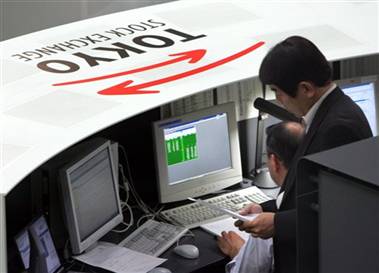 High-frequency trading has opened up new opportunities for hedge funds to make money in the market. As the Tokyo Stock Exchange launches its new high-speed trading platform, several hedge funds will be there. D.E. Shaw and other hedge funds are rumored to be building up their Tokyo offices in anticipation of the high-frequency trading system.
The Tokyo Stock Exchange is set to roll out a new high-speed trading platform this week. And the hedge funds will reportedly be there to take advantage of it.

Among them will be D.E. Shaw Group, Asian Investor reports. The New York-based hedge fund would not comment on reports that it and other hedge funds engaged in high-frequency trading were building up their Tokyo desks in advance of the stock exchange's new system.

The Tokyo bourse's US$145 million Arrowhead platform will process trades in just five milliseconds and will give the exchange the more than six times its current capacity. Currently, Tokyo trades take between two and three seconds; under the new system, the TSE will be more in line with the New York Stock Exchange and London Stock Exchange. Source

Related to: Tokyo Stock Exchange Trading

Tags: tokyo funds, tokyo hedge funds, japanese hedge funds, tokyo stock exchange, high frequency trading, high frequency hedge fund trading, hedge funds in tokyo